Meet Dr. Erick Aguilar - Running for Congress in Florida's 4th District
Can you share a little about your background and how you got started?


I was born in San Pedro Sula, Honduras in 1975. At the age of 7 (1982), my family moved to Brooklyn, NY in the East New York neighborhood area. It was a challenging time for me and my family growing up in the "rough" area of Brooklyn during the unwanted epidemic of drugs and crime, education and economic crisis, and lack of public trust. Yet, I overcame the struggles and took on those lessons to pursue a better life. Eventually, I was accepted to John Jay High School with the intention to be a lawyer in the future. Unfortunately, there were some obstacles that the pressures of the social environment overcame my goal that I barely graduated from John Jay High School. During High School, I was working part-time at a delivery service company delivering letters and packages after school from Midtown to Downtown Manhattan.
After High School, I was training to be an automotive technician, and graduated from Apex Technical School in 1995. I interviewed for many jobs in the automotive field with no luck. During my search, I worked part-time at a fast food pasta restaurant at the Manhattan Mall as a food delivery person. As I continued my job search while working, I found out that the U.S. Navy was recruiting for aviation maintenance. My family was not known for any military service, but ever since I could speak English, able to read and understand the culture of the United States, I did not shun the idea of joining the U.S. military. I did talk about the U.S. military service openly during my High School years with my friends to join the U.S. Army. I am a firm believer that God has a plan for everyone with an important direction. In my life, the signs led to joining the U.S military, and I chose to join the U.S. Navy with no nautical experience.
On April 8, 1996, my journey in joining the MOST powerful naval force ever created had started. This journey changed my life DRAMATICALLY! I served my country proudly all over the world on 5 different continents. I never declined an invitation to defend my country around the world. I joined challenging deployments in the Persian Gulf during Enduring Freedom and Iraqi Freedom, encountering and deterring Somali Pirates, protecting the sea lanes in the 5th fleet area, forward deployed in the Asia sea lanes, and other missions that are more confidential. In 2016, I, Chief Petty Officer (AW/SW) Erick Javier Aguilar retired after 20 years of naval service serving PROUDLY with Honor, Courage, and Commitment. While serving in the U.S. Navy, I led Sailors in aviation management, technology, logistics, and fiscal administration operations. I earned numerous military awards and decorations for valiant and dedicated service. I am ever grateful for the opportunity to serve for the people of the United States to defend the valuable freedoms this great country continues to provide to its people.
I have been teaching in higher learning for 14 years at the bachelor, master, and doctoral levels. I teach several concentration areas in business, technology, and history, conducted professional development training, and business enhancement workshops. Provided subject matter expert knowledge to develop leadership, business, project management, cybersecurity, computer technology, U.S. and World history, and marketing curriculum. Served as a Private Consultant to provide mentorship and coaching to educational and business leaders in organizational culture, operational management, finance, investments, technology, and productivity. Additionally, I am a stock trader and provide guidance on emerging markets.
My personal interests are research, writing, "Big" baseball fan (Tampa Bay Rays and New York Yankees), sports fan (football, soccer, tennis, golf, basketball), and mechanical and electrical work (airplane, automobile, motorcycles, and houses).
I am blessed to be married to the woman of my dreams! Extremely blessed to raise 5 children: 2 boys (14 yrs. and 11-month old) and 3 girls (4, 6, and 9 years old)! We do have another blessing to join us in August 2020, we are SUPER EXCITED! We all enjoy being active together to enjoy the beauty of life. I understand the value of family and I wish everyone can enjoy the value of family; as family is the foundation of our society to make us better for each other.
Why I am running for the Florida's 4th Congressional District?
I believe in serving others more than myself: SERVICE ABOVE SELF! There is too much work to be done in government for the people. There has been too much gridlock in laws and this has not met the needs of the people. We have turned over to a new decade, not enough has been accomplished to focus to improve the lives of our families. In the 2020s, we deserve a Congress that will work for the people, and that is what our team intends to do. There is too much squabbling in Congress and not a laser focus on families that the victims of this fight are our families. The agenda for families to move forward are:
Education

Financial support

Retirement

Affordable Healthcare

Quality Housing

Transportation

Employment

Healthy Foods and Medicine

Security and Safety of our Children

Enjoyable environment

Safe neighborhoods
In these areas, we need more laws that will work for people to fully follow a path in the pursuit of happiness, as our founding fathers foresaw. Not enough has been accomplished to focus to improve the lives of our families, yet, a 24 TRILLION DOLLAR debt has been accumulated with a pathway to increase further. Our team will present strong leadership to overcome these challenges to create laws that FULLY work for our families while reducing our national debt. We are laser focused to find a pathway to avoid being economically submissive to other entities: independence, not dependence. I am calling that the 2020s will be the "Age of Accountability" for elected leaders to actually help the people they represent.

Which Republican or conservative thinkers inspire you both past and present?
I am a firm believer in the vision our founding fathers have. I am also a believer in Lincoln's vision along with Ronald Reagan and Donald Trump. Each leader has a specialty they bring to the table for the best interest of the American citizen. We should always seek methods to increase independence to avoid a submission to dependence. Every human being is fully capable to accomplish what their heart desires.
I am a believer of being fiscally conservative. Nothing can operate without having funding. People don't normally volunteer to work; as the food they eat, the place they reside in, the products they need will not be given to them for free. These necessities must be paid for, thus a person will need a job that pays them. The government is no different where services do not operate for free or volunteer work. We need money to operate our government, yet, elected leaders have to be fiscally responsible to not overspend what they don't have. Unfortunately, they have overspent too much, but yet, they may not manage their own finances that way. We need elected leaders in the 2020s to focus on being fiscally responsible, as the national debt is getting out of hand and need new elected leaders to start to reduce it to be better prepared for the best interest of the American future. Our founding fathers did mean for us to be independent which included fiscal independence.

Are you more of a Stalwart Registered Republican, Libertarian or other with respect to your political thought process?
I am a registered Republican and I am a true conservative. I believe in a government of, by, and for the people. This message seems to have been lost on most representatives during the times they vote on legislation, it affects the people they are supposed to represent. Basically, they have created more harm than good. The votes are cast without the consent or even a word to the constituents.
The term "uninformed voter" gets thrown around a lot. But, the voter is only uninformed because their representatives don't talk to or reach out to them, they don't provide the information of what is happening in Washington, and the only time voters know what is going on is when it's too late. Our team has a 24-48 hour response time to our constituents. We open it up to anyone that if their representative does not reply to them, then they can contact us and we will. I am a qualified candidate, and some citizens outside of the district have reached out to us with their concerns, and we do listen to the American people. Yes, the people in the district elect us, but the ideas from people of other districts have aligned with the ideas from the Florida 4th district.
We are optimistic that a win in our election will send shockwaves to bring back the foundational structure of what the congressional seat is about, service for the people! We should not forget where the real political power is, the power lies on the votes of the people! The votes of the people will be energizing and our election will energize people to scream out that they want their representatives to represent them, as America's Families. Representation is about service above self, and some local, state, and federal representatives that we have contacted do not understand that concept, which is sad! Our team will continue to fight for the American Citizen and their Families. American Families First! The President has recharged that the American First ideology is breathing and kicking, we just need more elected representatives to follow suit, and that's what we intend to do! The Republican voters will speak out very loudly on August 18th who will represent them in the general election, and off to Congress in January to get the people's business accomplished!



What do you see as the single most important thing you can help with?
Bringing the voice of the people back to the government is most important, and there are various levels from that. From there, we have many areas to work on for the people. There is no silver bullet for all of the work to be done, we will tackle many areas. Our team is ready and laser focused to tackle all of the issues for America's Families. A successful congressional team is about structure and organization. We have various priorities along with America First bills to bring to the house floor. We plan to lead America First bills for the best interest of American Families. We will also follow Maslow's Hierarchy of Needs model to ensure legislation meets the need of the American People! It is not an easy task we are undertaking; it will be a lot of work. We will be challenged and tested every second by those that do not focus on American Families, but we are ready to work for American Families! Our dedication to service will overcome the challenges brought forth!



Anything additional you'd like to add? Why vote for you?
This is our campaign website for the voter to know where we stand on the issues: www.ErickForCongress.com
We have a podcast channel where anyone can listen to where we stand on the issues (Dr. Erick Aguilar Podcast). I am on every week on Saturdays from 8:00 to 9:00 am on 103.9 St. Augustine Radio (https://staugustineradio.com/) to help play the music and provide guidance on political issues. Voting for me, people will see TRUE representation in Florida's Congressional 4th District and on national issues. The American Citizen can never hesitate to contact me with an issue, my door is always open for discussion and solutions. We plan to be proactive on issues and provide solutions. As a U.S. Navy Chief, we, as Chiefs are about SOLUTIONS, not excuses! We plan to LEAD! Chiefs are the backbone of the Navy, and now, American Families will have a Chief to be the backbone of Congress! America First!
If anyone wants to donate at any level, please click Donate for America's Future



How can we vote for you and are districts pertinent?
I am running in the Florida's 4th Congressional district that consist of:
Nassau County
City of Fernandina Beach
Yulee Community
Town of Hilliard
Town of Callahan
Bryceville Community
Duval County
City of Jacksonville
City of Neptune Beach
City of Jacksonville Beach
City of Atlantic Beach
Town of Baldwin
St. Johns County
City of St. Augustine
City of St. Augustine Beach
Ponte Vedra Beach MSD
Marshall Creek CDD
Sweetwater Creek CDD
Julington Creek CDD
Aberdeen CDD
Heritage Landing CDD
Rivers Edge CDD
Turnbull Creek CDD
Heritage Park CDD
Sampson Creek CDD
St. Johns Forest CDD
Tolomato (Nocatee) CDD
World Commerce CDD
Durbin Crossing CDD
Glen St. Johns CDD
Sandy Creek CDD
Citizens in those areas can cast a vote for Erick Aguilar (Dr. is not allowed in the ballot, but my name will be first!) by Early Voting the Republican Primary which is from August 3rd through the 16th
Primary Election Day: August 18th.
Eligible individuals can register to vote at any time. The deadline to register in order to participate in an upcoming election is 29 days before the election. The registration deadline for the Primary Election is July 20th
Sample ballots are sent by email and in the mail by the counties.
Mail in ballots must be requested through the St. Johns, Duval, or Nassau County Supervisor of Elections. Supervisors of Elections send the ballots during a 7-day window between 35 and 28 days before an election. The send periods for 2020 primary are: July 9th to July 16th.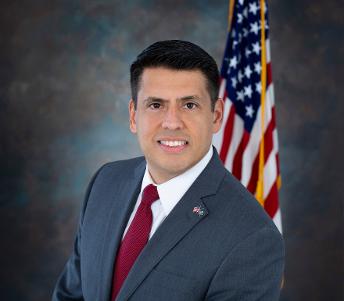 Republican Magazine
- The American Political Magazine for those in their right mind!
© 2020 Luxury Chamber Media Group