Meet Jim Pruden, Florida District 22 - Exclusive Interview in Republican Magazine
Can you share a little about your background and how you got started?

I have been a resident of south Florida since 1982.

Prior to

relocating to Florida,
I grew up on a cattle farm in southern Maryland where my parents raised me to be diligent, hardworking and honest.
While residing in Maryland, I began my working career at IBM. During those earlier years, I also volunteered as a first responder at nights and weekends where I learned the virtues of compassion and desire to serve others in need.
With respect to my academic background, I attained a Bachelor of Science, MBA and Juris Doctor Degrees.
In my professional career, I worked an aggregate of more than 45 years in technology, business and law where I learned to manage budgets, think critically and methodically plan for the future. That experience includes my practice as a business attorney for 22 years as well as various prior positions in executive management, strategic planning, manufacturing, research and development, and engineering.
After o
riginally joining IBM in 1973, the company later relocated me to Boca Raton Florida in 1981 to be part of IBM's Personal Computer development team.
Thereafter, I completed my MBA and Juris Doctor Degrees and opened a law practice that included representation before
Florida's Circuit Courts, the 4th District Court of Appeal, and the Federal US District and Bankruptcy Courts for the Southern District of Florida. That experience sharpened my skills in interpreting and applying the Constitution as well as Federal and State laws, rules and regulations.
In addition to my litigation experience,
my legal services included representation associated with
finance and securities, corporate governance and operations, commercial and residential real estate, intellectual property, licensing, procurement, state and federal regulatory matters, acquisitions and mergers, business alliances, distribution, and other
contract work for various domestic and international business activities.
Which Republican or conservative thinkers inspire you both past and present?
For me, certainly the most inspiring conservative Republican was Ronald Reagan who epitomized the true meaning of the American dream by personally demonstrating our ability to pursue and achieve just about any goal one may desire to take on.
That impeccable sense of self determination was matched only by his commitment to our free market capitalist society established by our founders as well as his determination to maintain America as the leader of the free world.
Although the average person may not generally associate an economist as an inspiring conservative, I would say that the early 20th
century economist and political philosopher,
Friedrich Hayek
, is among the most inspiring conservatives. He emerged as one of

the leading defenders of a market economy against 20th century proponents of socialist planned economies, and his book

The Road to Serfdom

should be mandatory reading at our universities.
His achievements were finally recognized when he was awarded the Nobel Memorial Prize in Economics.
While many may take issue with his messaging techniques and strong personality, it is certainly hard to dispute that President Trump has re-awakened conservative thought to an extent not seen since Ronald Reagan.
Are you more of a Stalwart Registered Republican, Libertarian or other with respect to your conservative thought process?

I have been a registered republican for 47 years and have maintained the unwavering view that America is the greatest country in the world. Over the years, the ideology of the Republican Party has certainly evolved; however, it is the Party's defense of our right to self-determination, devotion to strictly construing our constitution, commitment to a free market economy, and a dedicated philosophy of strength for leadership instead of domination that keeps me devoted to the Party.
What do you see as the single most important thing you can help with?

There is a growing philosophical trend in this country that condemns individualism and personal achievement, views capitalism as an outdated economic structure, promotes central planning and expanded control over citizens by the government, and views U.S. sovereignty as an arcane notion. With the help of my District's constituents, I want to be part of the conservative effort to regain control of the House of Representatives. Specifically, I want to do my part in defeating the socialist movement and breaking the gridlock in Congress. That way, Congress can once again be a body that serves the people as well as maintain the integrity of the institution established by our founders.
Anything additional you'd like to add? Why vote for you?

Programs that p

rotect and preserve our free-market society, as well as create incentives that encourage personal growth and inter-economic class advancement;

Proposing a healthcare plan that would reduce

costs by approximately 45% which will be accomplished

through a new approach to health insurance as well as reforms to administrative processes, drug purchasing and distribution;

Securing the border, outlawing sanctuary cities, and supporting immigration reforms having a merit based approach;


Defending our 2nd

Amendment rights and promoting programs for threat identification and in

tervention, as well as supporting legislation that provides for effective deterrent measures for violent crime;



Supporting security measures to address the growing physical and political attacks on the American Jewish community and Israel. That includes opposing the BDS movement currently being advanced by radicals in Congress;


Promoting legislation that would foster the return of manufacturing and business that was driven offshore by anti-business legislation;

Rejecting the politics of hate, obstruction and group identity, and promoting the return to a culture of civility and professionalism in the legislative process.



Lastly, I would point out that there two attributes that the best candidate must possess.
They are qualification and elect-ability. My academic background and professional experience makes me the most qualified Republican candidate running for Congress in District 22.
As for elect-ability, one must demonstrate a sincere commitment to a platform that serves the best interests of his or her constituents as well as effectively communicate that platform.
I have demonstrated my commitment to this campaign together with a sincere determination to serve our country by setting aside other more personally beneficial plans in order to run for office.
That commitment also includes me personally donating over $100,000.00 of my own funds to the campaign so as to jump start an effective communication plan defining the platform's benefits for Republicans, Democrats and independents alike.
I have made all the required filings and disclosures with the Federal Election Commission, U.S. House of Representatives as well as submitted all of the necessary elements needed to satisfy the State's ballot qualifying requirements.
How can we vote for you and are districts pertinent?
I am running against the Democrat incumbent, Ted Deutch, in Florida's Congressional District 22.
C
ongressional District 22 is substantially made up of the Palm Beach County areas of Highland Beach and Boca Raton as well as the Broward County areas of Parkland, Coral Springs, Coconut Creek, Margate, and the eastern portion of Broward County from Deerfield Beach down to South Ft. Lauderdale. A map of District 22 can be found on my Website.
If there are any other Republican contenders in District 22 after the state's ballot qualifying period ends on April 24, 2020, there will be a primary election on August 18, 2020 which will be for state and Congressional races. The general election for Congressional seats will take place on November 3rd along with the Presidential election.
Website and Campaign Contact Information:

Jim Pruden For Congress

6574 N. State Road 7, #245
Coconut Creek, FL. 33073
Website: JimPrudenForCongress.com
Email: Jim@JimPrudenForCongress.com
Tel: (561) 417-4644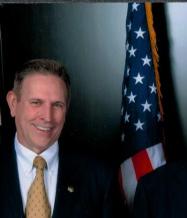 The American Political Magazine for those in their right mind!
Main Index:
Sub Index:
© 2020 - 2023 Luxury Chamber Media Group